Pardini & Asociados is shortlisted as International Law Firm of the Year by Citywealth
Posted on 2019-03-12
Pardini & Asociados is proud to announce that our law firm was shortlisted by Citywealth as International Law Firm of the Year - Boutique in the Magic Circle Awards 2019.
The Citywealth Magic Circle Awards bring together over 400 of the industry's global elite representing over 140 organisations including the leading law firms, trust companies, family offices, tax advisors, investment managers and bankers in the wealth sector to recognise the achievements of the industry during the past year.
Pardini & Asociados is the only Law Firm in Panama in Citywealth, and now is nominated for this important award.
The online vote is now open and so we want to invite our readers, clients and peers to support us at this prestigious award.
VOTE FOR PARDINI & ASOCIADOS HERE
Steps to vote:
Once the link is opened, you have to look for the category International Law Firm of the Year – Boutique;
Then please vote for Pardini & Asociados filling the circle besides the name: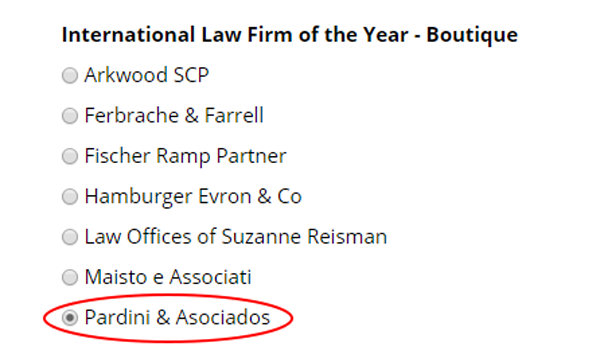 VOTING CLOSES ON THE 12TH APRIL 2019.
The Magic Circle Awards provide an excellent opportunity to recognize our legal services and positioning us between major wealthiest private investors, advisors and managers of the industry. Our law firm will appreciate your support.
For more information, please contact us.
Source: Pardini & Asociados