Guide to IBLC Member Firms 2012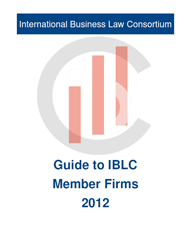 The International Business Law Consortium (IBLC) is an international alliance of select law firms, characterized by its impeccable experience, reputation and professionalism in the legal services they offer.
Currently, Pardini & Associates is the exclusive Panama member of the IBLC which brings together more than 100 independent law firms, tax advisers and business consultancies, amounting to 1,500 professionals in more than 50 countries around the world. With this alliance, our firm offers efficiently and effectively services to clients located anywhere in the world.